The Best 4/20 Celebrations You Need to Check Out!
Do you know how 4/20 started? The myths surrounding the origins of the "holiday" have long been debated and debunked. With each passing year there's one new story or another — but none of them get it right.
Basically, way back in 1971 a group of friends heard rumor of an abandoned pot farm and decided to go on the hunt for it. Each week the group would meet at 4:20PM, hop in a car, light up, smoke the whole way out to Point Reyes Peninsula and finally smoke the whole time they searched.
They never did locate any weed out there but they did coin the term 4/20 from it, and no one knew what they were talking about! These days you don't have to keep it as hidden as you used to though, and there's many different events popping up to give more celebration to the celebration.
April 20th is right around the corner from now, do you know what you're going to be doing yet? If you don't have any idea yet, there's still time. Check out any one of these 10 great events and really make a day of it!
Colorado
World Cannabis Week: Denver, CO from April 14th – April 24th
Website: World Cannabis Week
When: This even started on April 16th, but events won't be ending until the 24th.
Where: All around Denver, CO
What: Cannabis Week is full of a myriad of events: from dispensary and grow tours to concerts, food and many other exciting things to do!
Cost: The great thing about Cannabis Week is that the price per event varies, so for more information you can check out their events page here.
Colorado Cannabis Cup: Denver, CO on April 19th
Website: Cannabis Cup
When: Doors to this event open at 6PM and won't be closing until the concerts are over.
Where: Ogden Theatre, 935 East Colfax
What: A concert featuring Cypress Hill, George Clinton & Parliament Funkadelic, Action Bronson, and Chronixx along with the honoring of the best strains this year by High Times!
Cost: $65 for General Admission, $150 for VIP (SOLD OUT)
The 420 Rally: Denver, CO from April 16th (POSTPONED)
Website: 420 Rally
When: TBA on the official website
Where: The McNichols Civic Center Building
What: This 4/20 gathering features live music from Wiz Khalifa and Lil' Wayne – the Martian!
Cost: The general viewing cost is $50, but for backstage passes and a few other benefits you'll be looking at $150 per person.
California
420 in the Park: San Francisco, CA on April 20th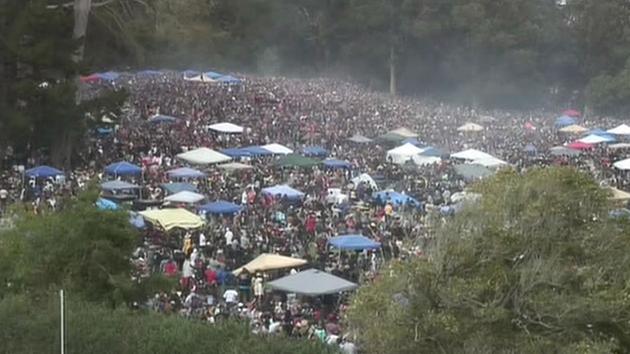 Website: 420 In The Park
When: The gathering starts at 1PM, though you may want to make your way a little earlier if you want a good spot.
Where: Hippie Hill
What: No need to sit inside all by your lonesome this 4/20, head on out to Hippie Hill for music, food and plenty of atmosphere!
Cost: $50 for general admission
Herb N Baked #420Smokeout: Silver Lake, CA on April 20th
Website: Event Brite
When: 8PM – 2AM
Where: 3409 W Temple St
What: Two words – open… bar. On top of that, there's no med card needed to enter,it's indoor/outdoor and it's 420 friendly with live musical entertainment. It's time to party and the only question is: will you be there?
Cost: Tickets are being sold for $53.95 before tax, so the sooner you jump on it the better!
Washington
420Fest: Seattle, Washington on April 20th
Website: Hemp Fest
When: 3PM – 10PM
Where: 2020 Airport Way
What: They've got an incredible spread of foods to partner some music and games, along with a raffle to support incarceration victims. You can even make your own hemp jewelry while you're there!
Cost: FREE for HEMPFEST members, and a membership would only run you around $15, so around $15.
Texas
4/20 Sixteen: Houston, TX on April 20th
Website: 4/20 16
When: 5PM – 11:59PM
Where: Eastdown Warehouse, 850 McKee St
What: Head on outside (or inside) for tons of live artists, plenty of vendors and whole slew of food trucks. Celebrate your 4/20 the way it was always meant to be, with the company of others!
Cost: $10