Unexpected Foods That Get You High
Every edible enthusiast has tried the occasional brownie or space cake, but what about marijuana lemonade, 'baked' baklava, or medicated mac n' cheese? This list (in no particular order) of unusual THC-laced treats and common foods that can get you high should provide plenty of inspiration for the would-be weed-eaters out there:
Medicated Mac N' Cheese
This THC twist on a comfort food classic from The Boston Bake Shop medicates through macaroni. Available to medicinal users in Massachusetts, or you can make your own by substituting cannabutter or cannaoil into your favorite recipe.
High Hot Wings
Buffalo wings are coated in a mixture of hot sauce and butter, or in this case, cannabutter. You can adjust the wings to be as spicy or..ahem, zesty as you'd like.
Marijuana Lemonade
Thirsty? California's Hermosa Farms makes a marijuana lemonade from organic lemons to quench your thirst with the power of THC. Medicated lemonade has gained traction in medical states, so do your research at the local dispensary and you can enjoy at home!
Medicated Chocolate Millennium Falcon
With Goobacca as a co-pilot, Reddit's u/Dabikan made this chocolate Millennium Falcon, infused with 250 mg of THC, 68% cocoa dark chocolate, and Nerds candy for a special crunch. A special silicone tray will be needed, but you too can make the jump to hyperspeed. If you want to know about getting started with edibles, head over here for some solid tips on managing your high.
THC Tacos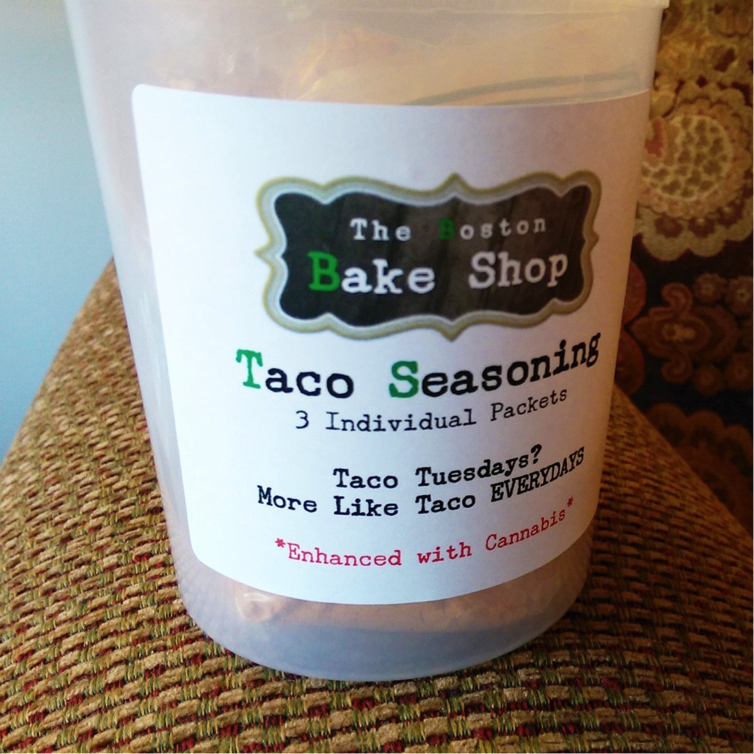 The Boston Bake Shop also makes THC Taco Seasoning, so your next Mexican meal can be well-medicated. A life where cannabis-infused Mexican food exists is true and real happiness.
Marijuana Bacon
Another Redditor, u/Endless_Vanity, shared this photo of weed bacon from Nexgen Medibles. You can always make your own tasty version too, bringing a whole new way to wake and bake. Hold onto your pants, breakfast is about to get REALLY exciting meat eaters!
Marijuana Pancakes
Complement your medicated bacon with some medicated pancakes from Von Baron Farms. The batter comes in a pressurized can, and a variety of flavors including Blueberry Lemon, Banana Cream, and Strawberry Shortcake. You might die of a heart attack, but you will die high and very, very happy.
Cannabis-Infused Bulletproof Coffee
Of course no morning ritual is complete without a cup of coffee, and many have recently caught on to the "Bulletproof" coffee trend: lacing coffee with butter or MCT oil, which drinkers claim have many health benefits. This guide to medicating your tea or coffee can help you start your day the right way.
Cannabis Pumpkin Pie
Every fall the pumpkin spice invasion comes to conquer all, and medication is no different. Jazz up your next pie with this recipe from The Stoner's Cookbook
Get Baked Brie
Nothing like a marijuana-infused appetizer to get you ready for a main course. This baked brie wrapped in phyllo dough pastry requires enough cannabutter to brush every layer. Check out the video recipe over at The Cannabist.
Marijuana Baklava
Phyllo can serve that sweet tooth as well, with this recipe for marijuana baklava. Let this Mediterranean pastry put you in a medicated state. If you are lucky enough to live in a medical state, ask your local dispensary if they have cannabis honey. It is perfect for glazing the top of your delicious baklava!
Cannabis Vodka
Mixing alcohol and marijuana should be done with caution, but this potent infusion can deliver the best of both worlds, and extracts any leftover THC from stems and shake. It is pretty easy to make something similar at home too. Get the low down on tinctures here and here!
Bloody Mary-juana
Of course, once you've made cannabis vodka, the only logical thing to do is to make a Bloody (and medicated) Mary. Just add 2 oz. of your tincture to your favorite Bloody Mary mix.
Cannabis Cheesecake
This Cannabis Cheesecake recipe features enhanced butter in the graham cracker crust and enhanced cream cheese in the filling. Such decadence!
Cannabis Caesar Dressing
Of course they can't all be desserts, so why not dress your next salad with a Cannabis Caesar dressing? Infusing olive oil or coconut oil with cannabis can enable a large range of healthier edible options for food that gets you high!
Sour Gummies
These Sour Gummies from Wana Edibles come in a variety of flavors, each with 10 mg of THC. If you're in Colorado, check them out. If you are elsewhere, ask around or do your research online. They are actually quite easy to make! Try your local dispensary if you're in a cannabis-legal state too!
Nugtella Hazelnut Spread
Marijuana and Nutella are together at last! This creation from San Jose's Organicares dispensary is a total game changer in the world of spreadable chocolate-hazelnut delights. And life. A game changer in life.
Cannabis Pretzels
Auntie Dolores makes a wide range of cannabis snacks for medical marijuana patients in California, including these savory pretzels, which are perfect for microdoses on the go. They are hard to stop snacking on once you start. Salty!
Cannabis Tea
IncrediMeds in California offers a variety of cannabis-infused herbal teas, including Passion Peach, Pomegranate Green, and Apple Chai. Medicated tea is growing in popularity and is easily found in legal states. If you have to make it yourself, start here.
Cannabis-Infused Honey
If you can't get your tea already infused with cannabis, sweetening it with a little cannabis honey can have a similar effect. Some dispensaries offer cannabis honey and cannabis agave nectar, or you can infuse your own with a slow cooker. Oh honey!